THE HUB NEWSLETTER
WELCOME TO THE FEBRUARY 2021 ISSUE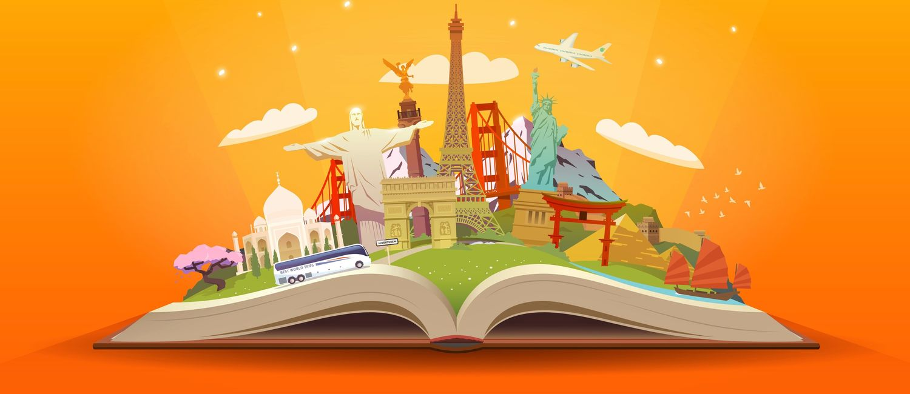 HAVE BOOK - WILL TRAVEL
Let's Read the World, ASP!
"Reading gives us someplace to go when we have to stay where we are." - Mason Cooley
Maybe your New Year's resolution was to read more this year. Maybe you want to finish that 900-page epic you started in January. Whatever your reading goal, we've got a challenge for you! We're traveling far less than we are used to, so join us in reading our way around the world with the Reading Miles Challenge.
Simply keep track of the time you spend reading, turn that time into Reading Miles with your Reading Miles Passport, and work your way "around the world" for the opportunity to win a gift card to Shakespeare & Company bookstore! And while you're at it, pin the book you're reading on our Let's Read the World map!
This challenge is designed to get every member of the ASP community reading, no matter what kind of reader you are or what genre of books you like to read. You may not remember the last book you read for pleasure, or you may be someone who eats, sleeps, and breathes reading! It doesn't matter. Pick the reading pace that seems reasonable to you, pick up a book, and start reading.
POETRY BY HEART
Upper and Middle School students are invited to participate in this year's Poetry by Heart competition.
Click below to find out more.
BOOK BUNDLES
Looking for more ideas? Here are 5 Book Bundles* we hope will pique your interest. Each bundle can be checked out as is or can be mixed and matched.

* Based on an idea from the Daunt Bookstore in London
Confinement
The Cellar by Minette Walters
Muna is treated as a slave by the Songoli family, cooking and cleaning for them and confined to a dark, windowless cellar at all other times. She is badly beaten and tortured by them until the day the younger son fails to come home from school.
Chapman's Odyssey by Paul Bailey
Harry Chapman, confined to a hospital bed and heavily medicated, coalesces through voices real and imagined.
Lockdown by Walter Dean Myers
Teenage Reese, serving time at a juvenile detention facility, gets a lesson in making it through hard times from an unlikely friend with a harrowing past.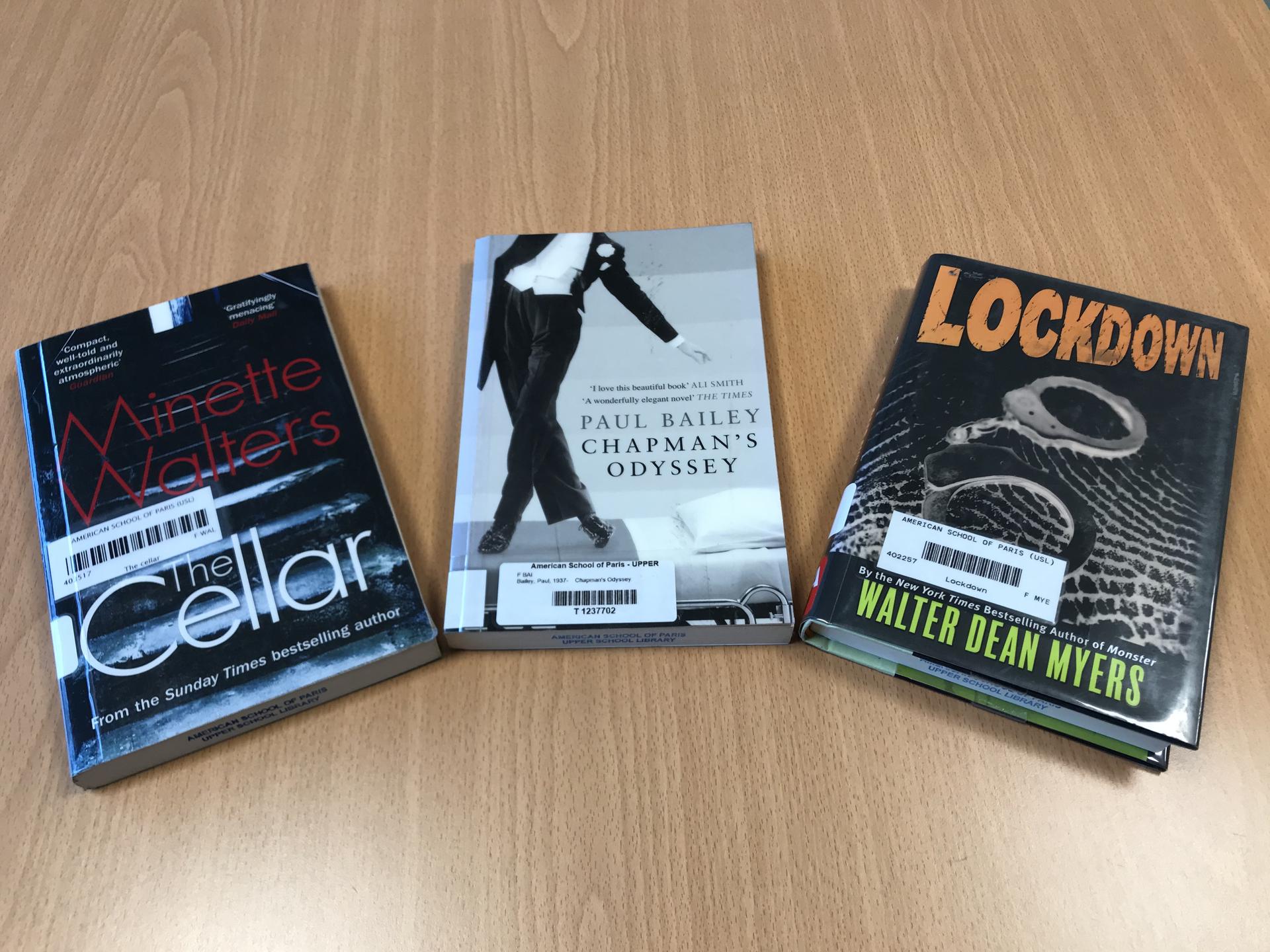 Biography / Memoir
Finding My New Virginity by Richard Branson
Fifty years after starting the Virgin Group, English business mogul, investor, and philanthropist Richard Branson reflects on how he fearlessly expanded his brand to encompass every corner of the globe, including the world's first commercial spaceline.
Shoe Dog: A Memoir By the Creator of Nike by Phil Knight
Nike founder and board chairman Phil Knight offers a rare and revealing look at the notoriously media-shy man behind the swoosh, illuminating his company's early days as an intrepid start-up and its evolution into one of the world's most iconic, game-changing, and profitable brands.
My Life On The Road by Gloria Steinem
Gloria Steinem shares her stories of traveling and her feminism work.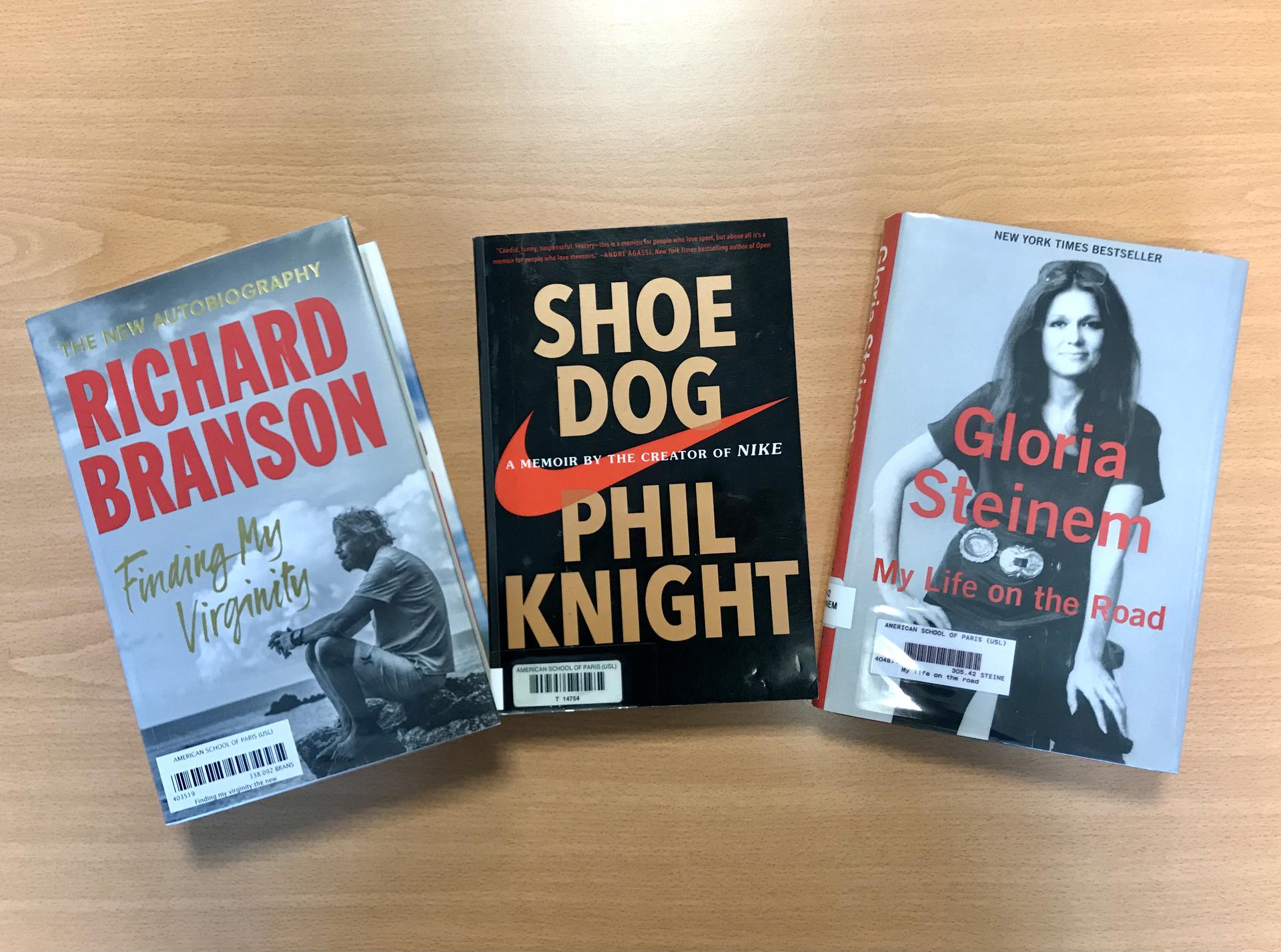 Nordic Noir
Knife by Jo Nesbo
Harry Hole is working cold cases, but he is more worried about the rapist and murderer, Svein Finne, who will soon be out of prison, and when he wakes up from a drunken blackout with blood on his hands, it marks the start of a waking nightmare.
The Rabbit Hunter by Lars Kepler
Joona Linna has spent two years in a high security prison when he is taken off to attend a secret meeting. The police need his help to stop a mysterious killer who goes by the name of the Rabbit Hunter. The only connection between the victims is that they all hear a child chanting a rhyme about rabbits before the killer strikes.
3 Seconds by Roslund & Hellstrom
Tells the powerful story of one man's fight against the system he spent his life protecting which now seeks to destroy him.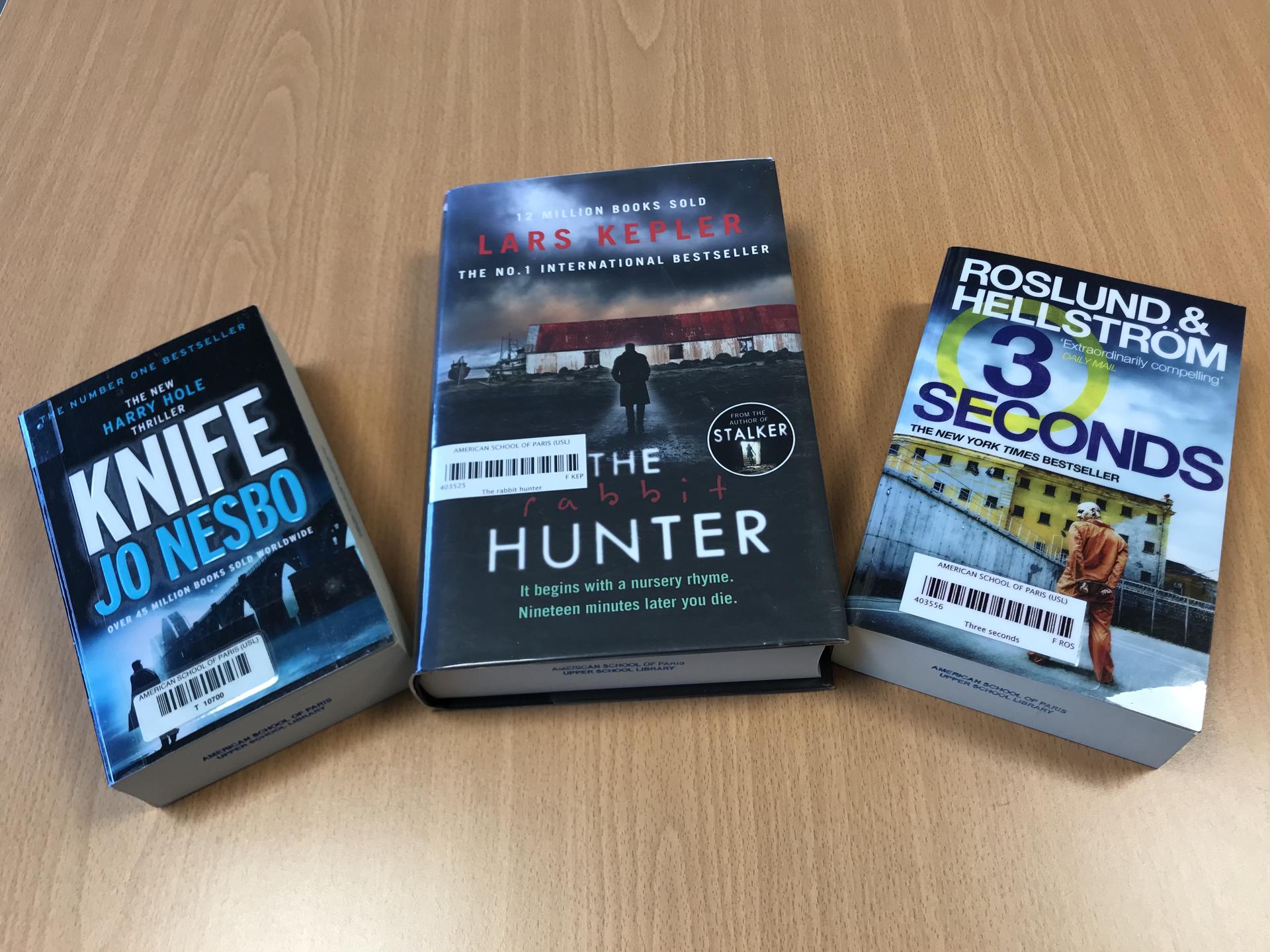 Français
Globalia by Jean-Christophe Rufin
Set in the second half of the twenty-first century, this novel describes life in Globalia, an archipelago and universal democracy. Outside is the law of the jungle. Although forbidden to leave, Globalia residents Kate and BaÎkal decide to take the risk. An Orwellian look at a totalitarian society of the future.
U4 a 4-book series written by 4 authors
A series of four books telling a story from four different points of view by four different authors. The plot takes place in France, right after a virus (U4) killed everybody except 10% of the population, the only survivors being teenagers between the age of 15 to 18 years old and a few adults.
Au revoir là-haut by Pierre Lemaitre
Three veterans of World War I, joined by the exigencies and vicissitudes of war, try to find meaning in their lives, having rejected the hollow promises of government and nation. They become swindlers, looking out for themselves, by tricking the unsuspecting.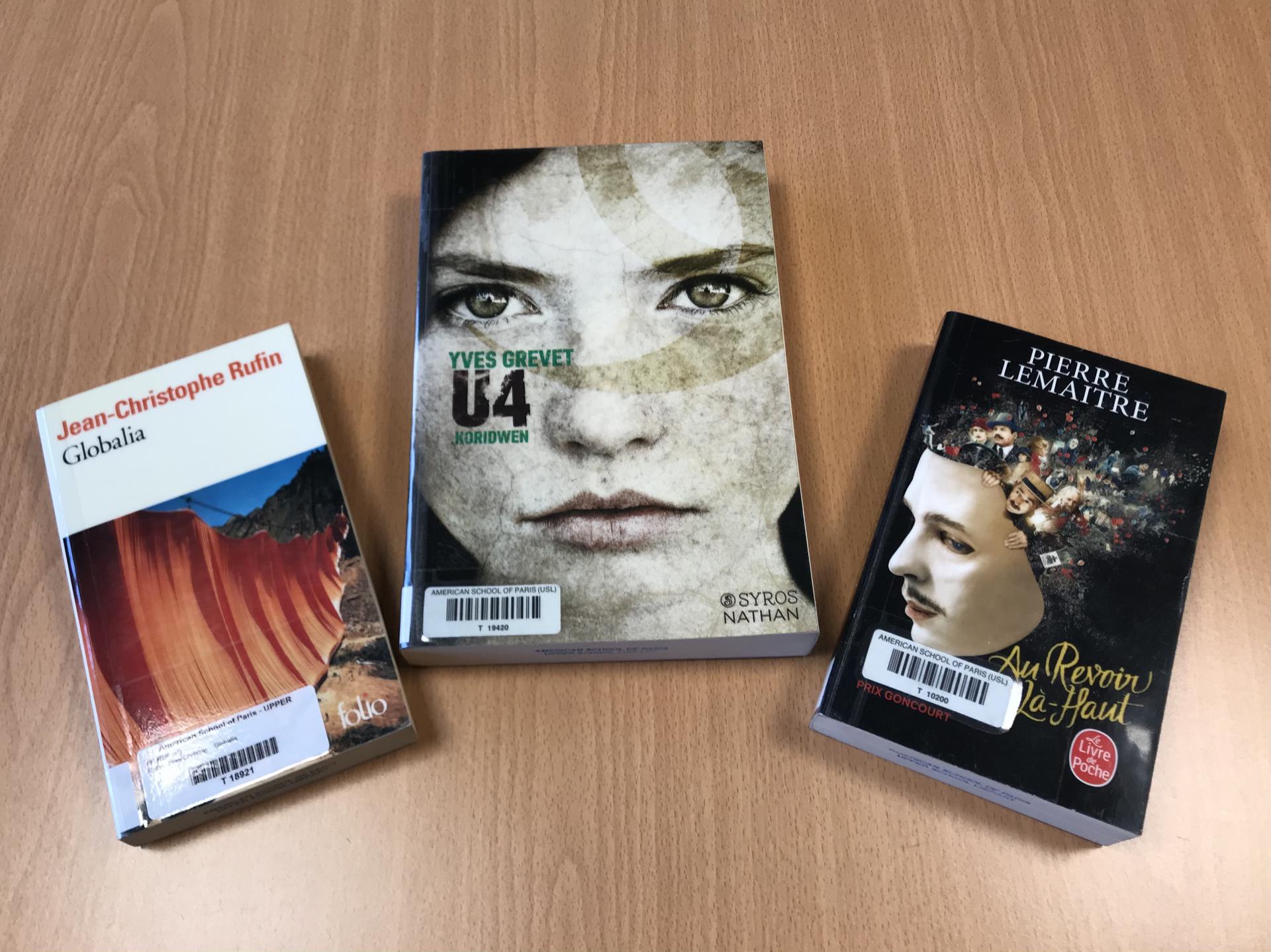 Español
Papel mojado by Juan José MIllás
In this story the investigative protagonist discovers himself to be a fictional creation of the very person he believes himself to be investigating.
Frida Kahlo: Una biografía by María Hesse (graphic novel)
An illustrated biography of Mexican painter Frida Kahlo.
De amor y de sombra by Isabel Allende
This novel is set in an unnamed Latin American dictatorship. The main characters are Irene Beltran, from a well-to-do upper-class family, and Francisco Leal, journalist and clandestine resistance worker, son of Spanish exiles who had fled the Franco dictatorship. While working together on an assignment for a magazine (Irene as a reporter, Francisco as a photographer), they discover the body of a 15-year-old girl, Evangelina Ranquileo, in an unmarked grave along with other corpses.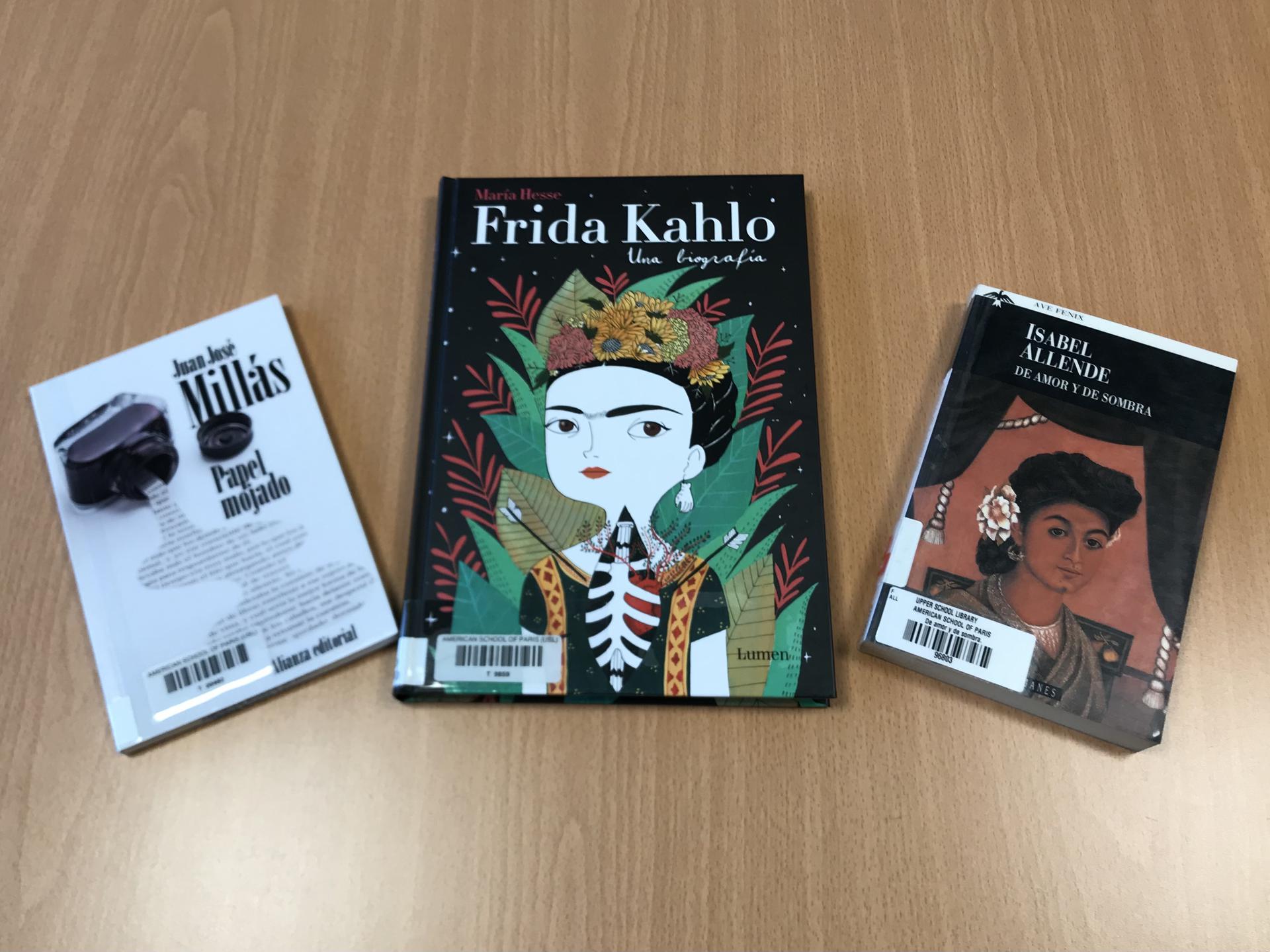 YOUR READING REVIEWS
- You read, we post
Students, parents, faculty and staff, we would love to know your book reviews and recommendations.
1. Contribute to our Blogging My Reading blog and share your reading recommendations with our community.
Follow this link for the instructions
2. You can also take a picture of the QR code on the right and fill out the quick Google form.
TELL US WHAT YOU WANT TO READ...
You have a book suggestion?
You have a suggestion for the library in general?
We're listening... Click on the link below.
LitBits
A selection of literary events for the month. Share your news items with us.
All events are held online.
1.
When: February 2 @ 19 h 30 min - 20 h 30 min
Where: American Library in Paris [Virtual Public Event; RSVP Required]
Event: Evenings with an Author: Stephen Clarke [Virtual Public Event; RSVP Required]
an evening with Stephen Clarke as he presents his new book, The Spy Who Inspired Me
2.
When: February 9 @ 19 h 30 min - 20 h 30 min
Where: American Library in Paris [Virtual Public Event; RSVP Required]
Event: Evenings with an Author: Suzanne Nossel [Virtual Public Event; RSVP Required]
an interview with Suzanne Nossel as she introduces her new book, Dare to Speak: Defending Free Speech for All
3.
When: February 10 @ 19 h 30 min - 20 h 30 min
Where: American Library in Paris [Virtual Public Event; RSVP Required]
Event: Evenings with an Author: Paul Richter [Virtual Public Event; RSVP Required]
an evening with Paul Richter as he presents his new book, The Ambassadors
4.
When: Thursday 11 February 2021, 20h00 - 21h00 CET
Where: Online Events with The Guardian [£5 plus £0.72 booking fee]
Event: Book Club with Margaret Atwood
Margaret Atwood will join the Guardian Live Book Club to talk about Oryx and Crake.
5.
When: February 16 @ 19 h 30 min - 20 h 30 min
Where: American Library in Paris [Virtual Public Event; RSVP Required]
Event: Evenings with an Author: Fredrik Logevall

6.
When: February 24 @ 19 h 30 min - 20 h 30 min
Where: American Library in Paris [Virtual Public Event; RSVP Required]
Event: Evenings with an Author: Janet Skeslien Charles
Note: If you have an account with the New York Times, don't forget to sign up for their weekly newsletter, BOOKS.
BITS & PIECES
Location
Building 6, Room 6108,
at the top of the Coulson Commons stairway
Hours

Monday-Thursday: 8:30 a.m. – 5:00 p.m.
Friday: 8:30 a.m. – 4:00 p.m.
Telephone
01 41 12 82 97
OUR MISSION: The American School of Paris is a vibrant, international, family-oriented community. Our mission is to inspire and prepare every student to achieve personal and academic excellence as an engaged global citizen by providing a challenging, innovative program within a compassionate environment.
© 2020 American School of Paris
41, rue Pasteur
Saint Cloud, France
The privacy of our ASP community is paramount, and the school is committed to respecting your data privacy rights, in compliance with the General Data Protection Regulation and other regulations. We invite you to acquaint yourself with our updated data protection policy. If for any reason you would like to be removed from our mailing list, please contact advancement@asparis.fr.
Unsubscribe from future ASP communications