THE HUB NEWSLETTER
WELCOME TO THE JANUARY 2021 ISSUE
GOODBYE 2020
WELCOME 2021

"If you're brave enough to say goodbye,
life will reward you with a new hello." —Paulo Coehlo
POETRY BY HEART
Upper School students, if you are interested in participating in Poetry by Heart, please see your English teacher and inform Mr. Chioini.
Choose the right button below to find out more.
BOOK BUNDLES
Looking for more ideas? Here are 5 Book Bundles* we hope will pique your interest. Each bundle can be checked out as is or can be mixed and matched.

* Based on an idea from the Daunt Bookstore in London
Gender
The Power by Naomi Alderman
A small twist of nature - teenage girls now have the power to cause agonizing pain and even death. The world drastically changes.
Invisible women by Caroline Criado-Perez (nonfiction)
Data is fundamental to the modern world. From economic development, to healthcare, to education and public policy, we rely on numbers to allocate resources and make crucial decisions. But because so much data fails to take into account gender, because it treats men as the default and women as atypical, bias and discrimination are baked into our systems. And women pay tremendous costs for this bias, in time, money, and often with their lives.
Symptoms of Being Human by Jeff Garvin
A gender-fluid teenager who struggles with identity creates a blog on the topic that goes viral, and faces ridicule at the hands of fellow students.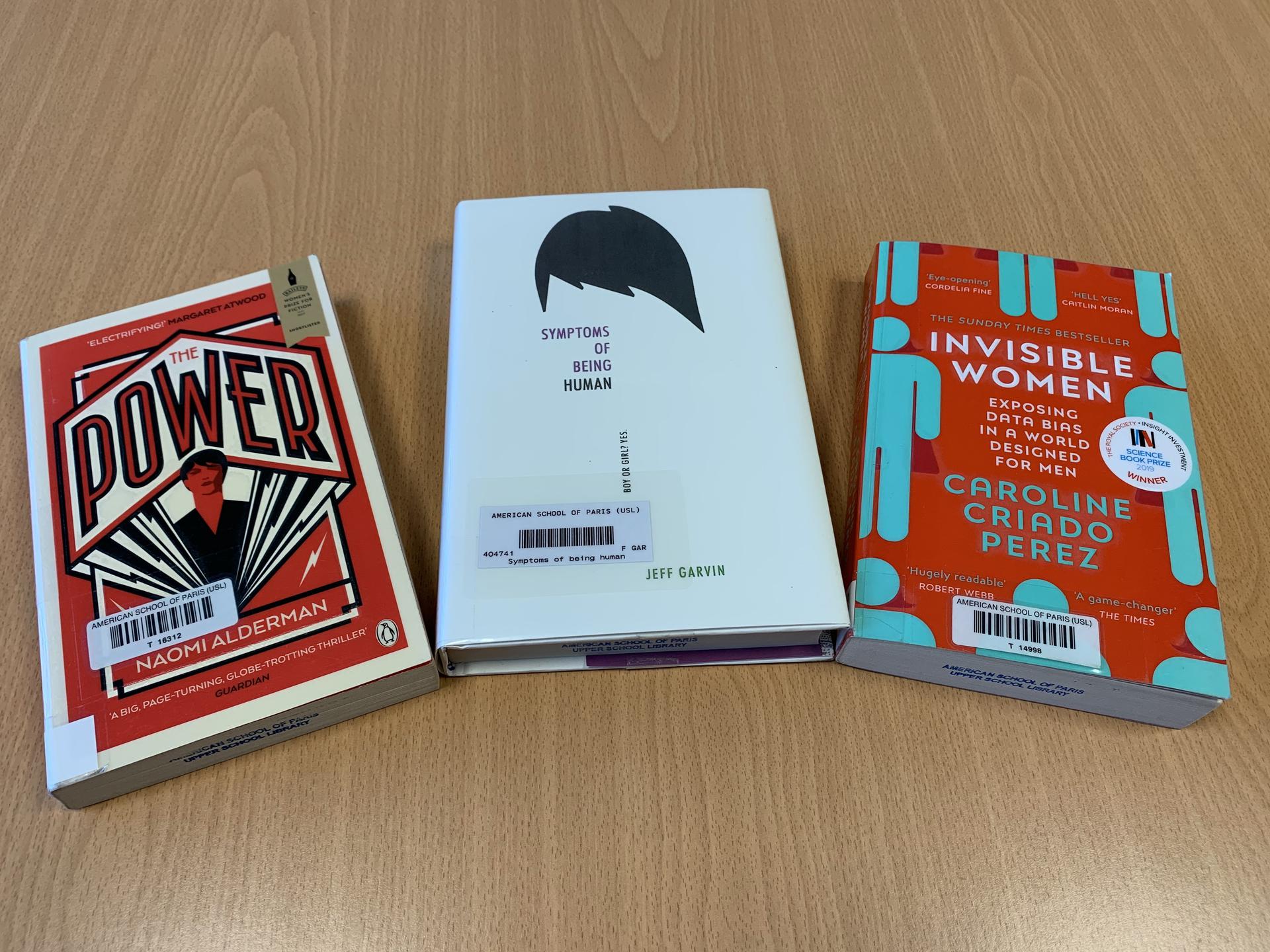 Biography / Memoir
The Glass Castle by Jeannette Walls
The author recalls her life growing up in a dysfunctional family with an alcoholic father and distant mother and describes how she and her siblings had to fend for themselves until they finally found the resources and the will to leave home.
Born a Crime: Stories From a South African Childhood by Trevor Noah
Trevor Noah's autobiography is the funny, moving, and insightful memoir of a young South African man, born during apartheid, and the struggles he faced as the child of a black mother and white father when interracial sex was against the law.
A Long Way Gone: Memoirs of a Boy Soldier by Ishamel Beah
Ishmael Beah describes his experiences after he was driven from his home by war in Sierra Leone and picked up by the government army at the age of thirteen, serving as a soldier for three years before being removed from fighting by UNICEF and eventually moving to the United States.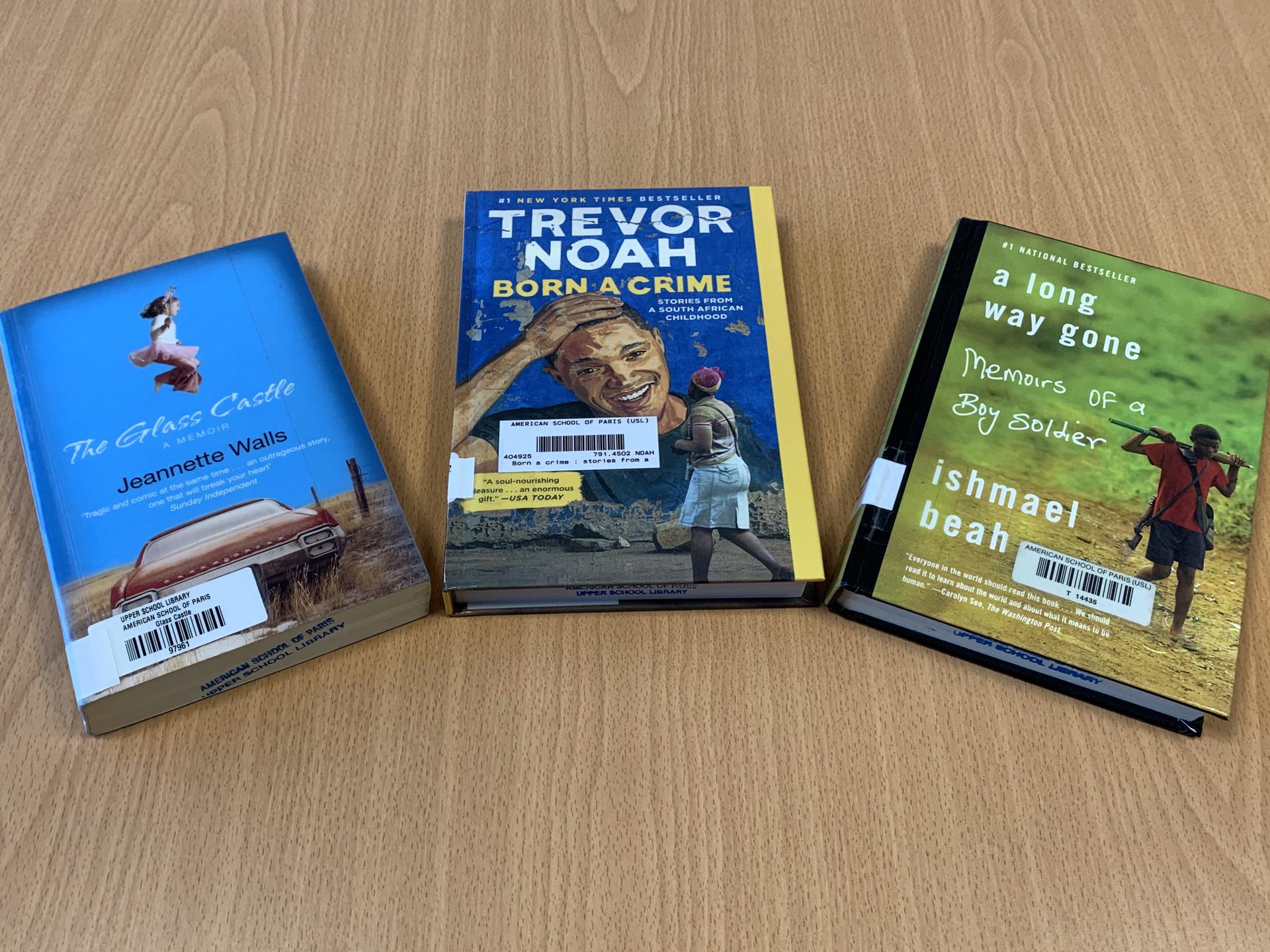 Winter Weather
The Great Alone by Hannah Kristin
Ernt Allbright, a former POW, comes home from the Vietnam war a changed and volatile man. When he loses yet another job, he makes an impulsive decision: he will move his family north, to Alaska, where they will live off the grid in America's last true frontier.
Into Thin Air: A Personal Account Of the Mount Everest Disaster by Jon Krakauer
The author relates his experience of climbing Mount Everest during its deadliest season and examines what it is about the mountain that makes people willingly subject themselves to such risk, hardship, and expense.
Snow Falling on Cedars by David Guterson
When a newspaper journalist covers the trial of a Japanese American accused of murder, he must come to terms with his own past.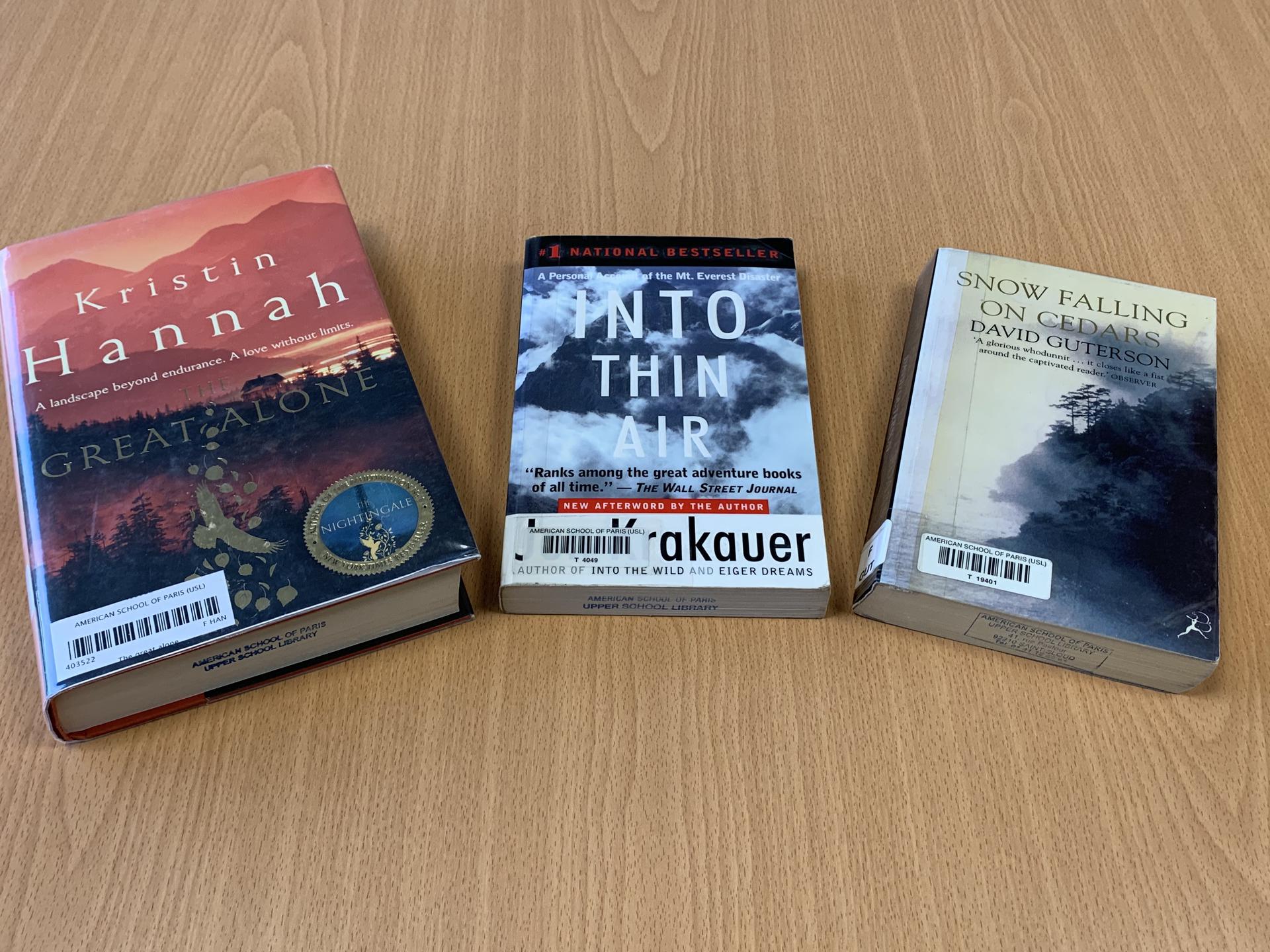 Français
La disparition de Stéphanie Mailer par Joël Dicker
Jesse Rosenberg and Derek Scott are the two New York policemen who solved the Orphea murder case back in 1994 during which the mayor's family and a young woman had been murdered. However, in 2014, journalist Stephanie Mailer confronts them and tells them they were wrong all along. Stephanie claims to have proof. A couple of days later, she vanishes without a trace.
Le liseur du 6h27 par Jean-Paul Didierlaurent
Sitting on the 6.27 train each day, Guylain recites aloud from pages he has saved from the jaws of a monstrous pulping machine. But it is when he discovers the diary of a lonely young woman that his journey will truly begin.
Charlotte par David Foenkinos
An homage to Charlotte Salomon a visionary Jewish-German artist who was murdered in Auschwitz at the age of 26.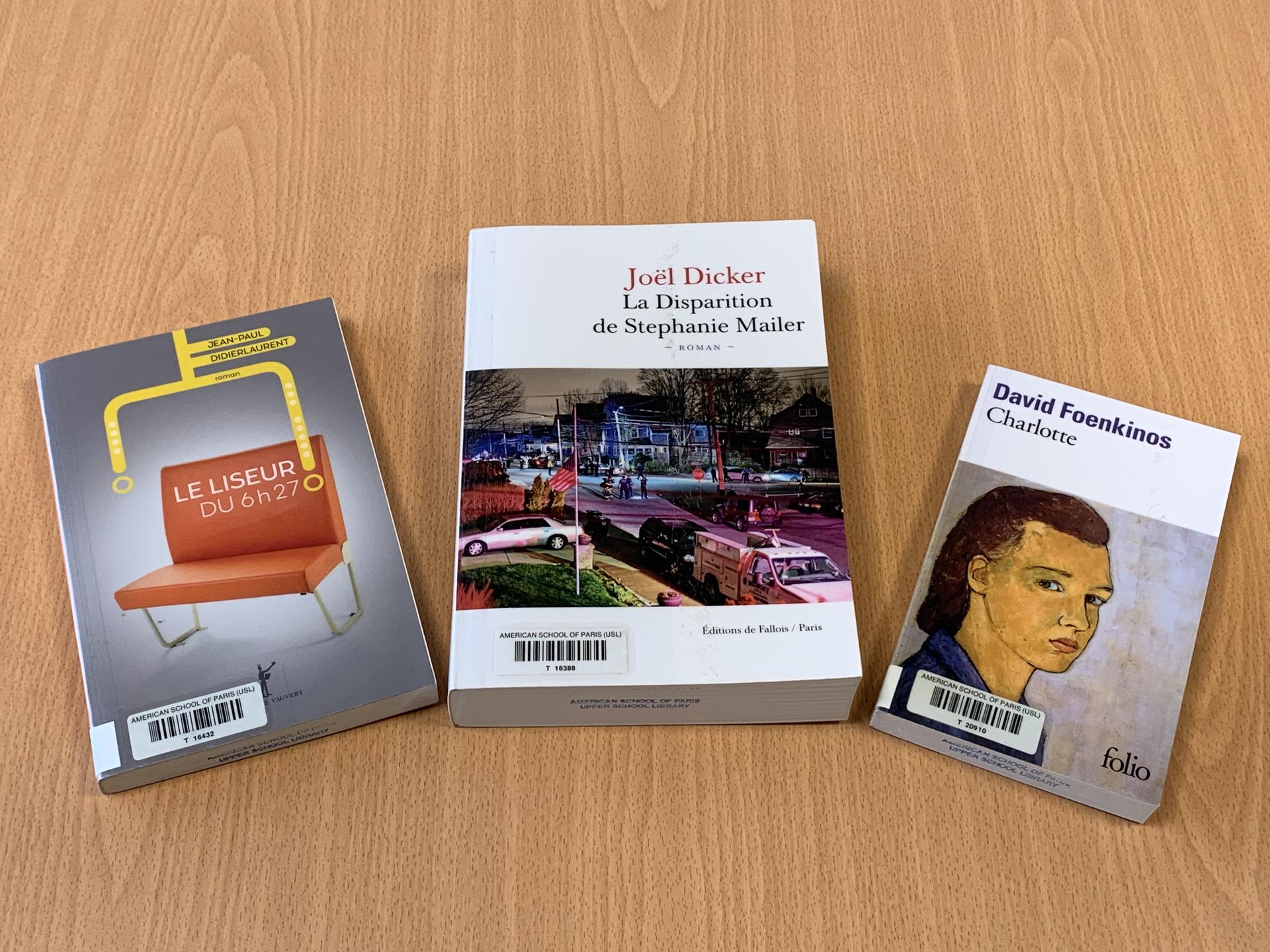 Español
La lluvia amarilla by Julio Llamazares
An old man, the last surviving inhabitant of Ainielle, a village high in the Spanish Pyrenees, recalls his life and the friends and neighbors who have passed on before him, while waiting for his own death.
El gran juego by Leticia Sánchez Ruiz
Through a series of puzzles Cucurucho and his brother Cosme must untie the mystery that leads to the fabulous legacy of Panda. But on the trail of the two there is already someone ready to play with them. Until the end.
Un viejo que leía novelas de amor by Luis Sepúlveda
A story of the jungle, the Shuar Indians, and the machine and gringos who have invaded it. Nature, out of balance, becomes vengeful and violent. An ocelot stalks the village, and only the old man, who once lived with the Indians and knows the jungle, is able to face the animal.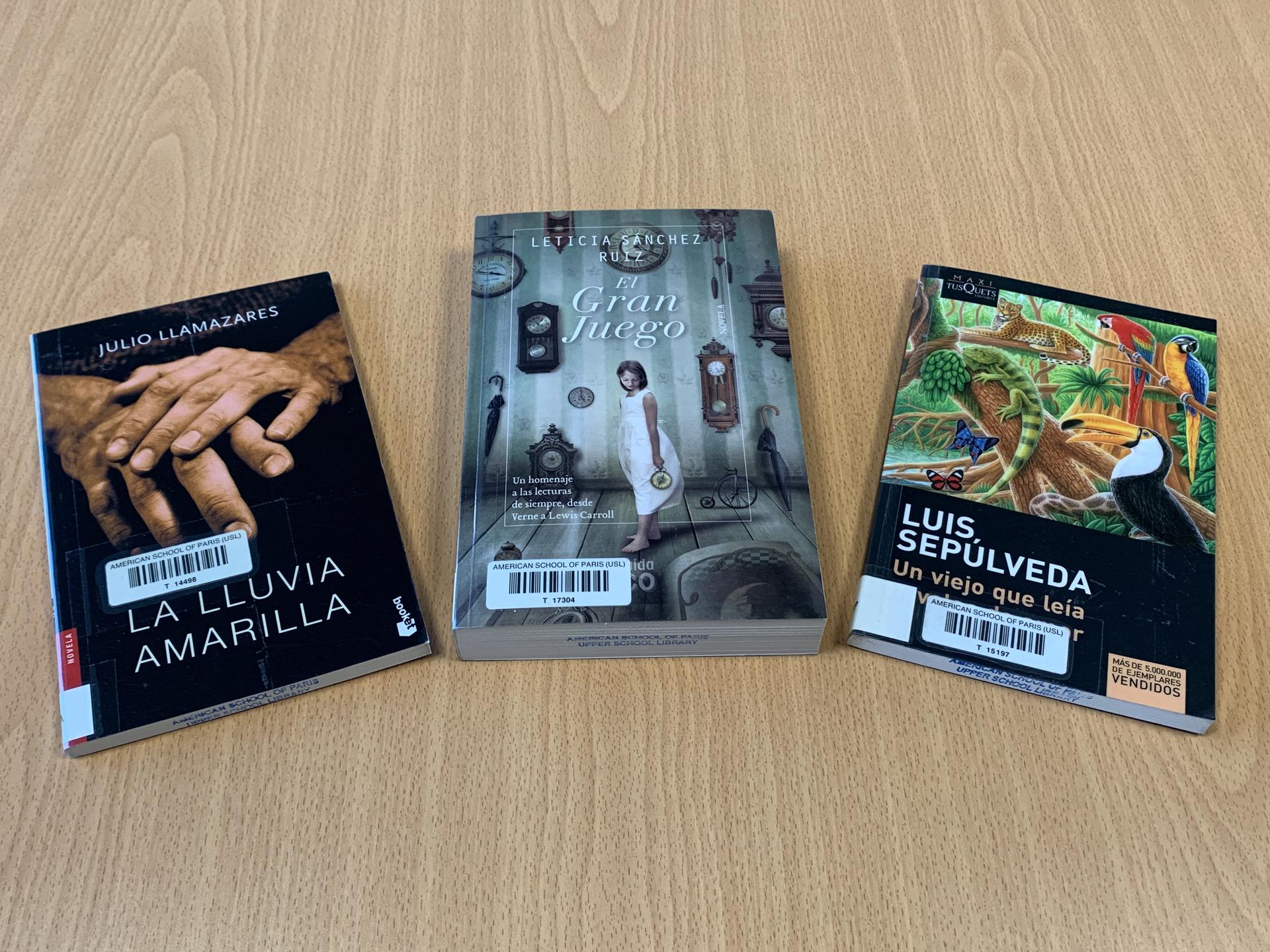 YOUR READING REVIEWS
- You read, we post
Students, parents, faculty and staff, we would love to know your book reviews and recommendations.
1. Contribute to our Blogging My Reading blog and share your reading recommendations with our community.
Follow this link for the instructions
2. You can also take a picture of the QR code on the right and fill out the quick Google form.
TELL US WHAT YOU WANT TO READ...
You have a book suggestion?
You have a suggestion for the library in general?
We're listening... Click on the link below.
LitBits
A selection of literary events for the month. Share your news items with us.
All events are held online.
1.
When: 5 January 2021 @ 19 h 30 min - 20 h 30 min
Where: American Library in Paris [Virtual Public Event; RSVP Required]
Event: Evenings with an Author: Deyan Sudjic
2.
When: 12 January 2021 @ 19 h 30 min - 20 h 30 min
Where: American Library in Paris [Virtual Public Event; RSVP Required]
Event: Evenings with an Author: Rachel Mesch
3.
When: 19 January 2021 @ 19 h 30 min - 20 h 30 min

Where: American Library in Paris [Virtual Public Event; RSVP Required]
Event: Evenings with an Author: Richard Layard
4.
When: Thursday 21 January 2021, 7pm–8pm GMT (20h00 - 21h00 CET)
Where: Online Events with The Guardian [£5 plus £0.72 booking fee]
Event: The 46th president: A conversation with Joe Biden biographer Evan Osnos In the week of the presidential inauguration, please join us for a special livestreamed event with Evan Osnos, biographer of Joe Biden.

5.
When: Tuesday 26 January 2021, 7pm–8pm GMT (20h00 - 21h00 CET)
Where: Online Events with The Guardian [£5 plus £0.83 booking fee]
Event: Mediocre: The Dangerous Legacy of White Male Power, with Ijeoma Oluo The author of the New York Times bestselling So You Want to Talk About Race, Oluo's Mediocre critically examines the last 150 years of American history - from the mythic stories of Western cowboys to the protests against police brutality - to offer a crucial argument that everything we thought we knew about American identity has been skewed by white male power.

6.
When: Thursday 28 January 2021, 7pm–8pm GMT (20h00 - 21h00 CET)
Where: Online Events with The Guardian [£5 plus £0.72 booking fee]
Event: Book Club with George Saunders
Booker Prize-winning US novelist George Saunders will talk about Lincoln in the Bardo.
Note: If you have an account with the New York Times, don't forget to sign up for their weekly newsletter, BOOKS.
BITS & PIECES
Location
Building 6, Room 6108,
at the top of the Coulson Commons stairway
Hours

Monday-Thursday: 8:30 a.m. – 5:00 p.m.
Friday: 8:30 a.m. – 4:00 p.m.
Telephone
01 41 12 82 97
OUR MISSION: The American School of Paris is a vibrant, international, family-oriented community. Our mission is to inspire and prepare every student to achieve personal and academic excellence as an engaged global citizen by providing a challenging, innovative program within a compassionate environment.
© 2020 American School of Paris
41, rue Pasteur
Saint Cloud, France
The privacy of our ASP community is paramount, and the school is committed to respecting your data privacy rights, in compliance with the General Data Protection Regulation and other regulations. We invite you to acquaint yourself with our updated data protection policy. If for any reason you would like to be removed from our mailing list, please contact advancement@asparis.fr.
Unsubscribe from future ASP communications