ASP Alumni News, Fall Edition 2020

A Very Special Bonne Année Alumni Evening in Paris
Friday, January 22, 7:00–8:30 p.m.
Paris-area alumni students and parents––let's ring in 2021 together. While we are unable to gather in person for our annual apéro, we invite you to a very special virtual event. Reservations will be required, and a fun and creative shared experience is practically guaranteed! Details to follow; if you want to know more already, please contact alumni@asparis.fr.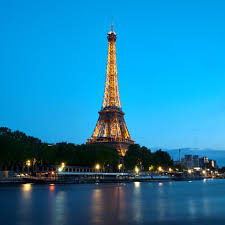 Thank you to alums on both sides of the Atlantic who joined us for the evening discussion with Andreas Schleicher, Director of Education and Skills at the OECD and a fascinating look at how systems of education can best prepare students for the future. If you missed it, you can watch the Zoom recording!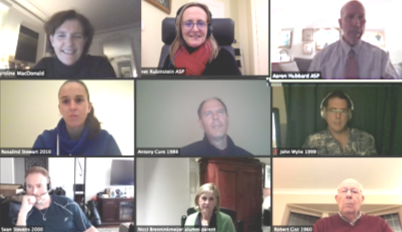 It was a wonderful evening for UK and Ireland alumni as we gathered virtually on October 29. A special nod to Rosalind Stewart '10 for sharing her experiences on opening the first Decathlon store in Ireland. Another alum shared how he used confinement time to achieve his personal best. Click for photos and more.

Every year in October, before launching our annual appeal, we celebrate our donor community.
This year's Impact of Giving event sadly could not take place so we reached out to our students and had fun making this thank you video for families and alumni who supported the school last year! We hope you enjoy watching it as much as we did making it!
You can learn more about the ASP Annual Fund and how to support our school here. The collective generosity of the ASP community truly makes a difference in the educational experience of ASP students and we appreciate every gift, big or small! For any additional information, please contact Caroline MacDonald, Director of Advancement.
Welcoming Alumni STEM Speakers
Women in STEM and other clubs are seeking STEM alumni who will share information and experiences about pursuing a career in a STEM-related field. Please contact alumni@asparis.fr if you are able to participate.

Recently, Kelly Morrison '11 spoke to both the Robotics club and Women in STEM club. Anna '21 shared: "it was fantastic to hear someone who was at ASP, who can explain to us how she got from here to where she is now." Read more.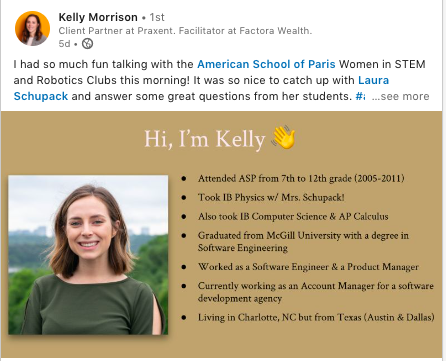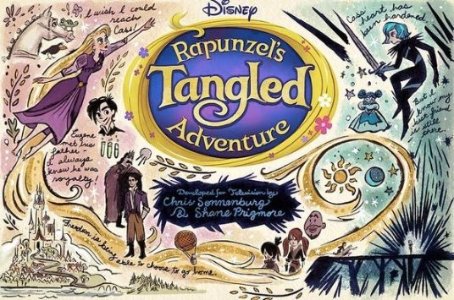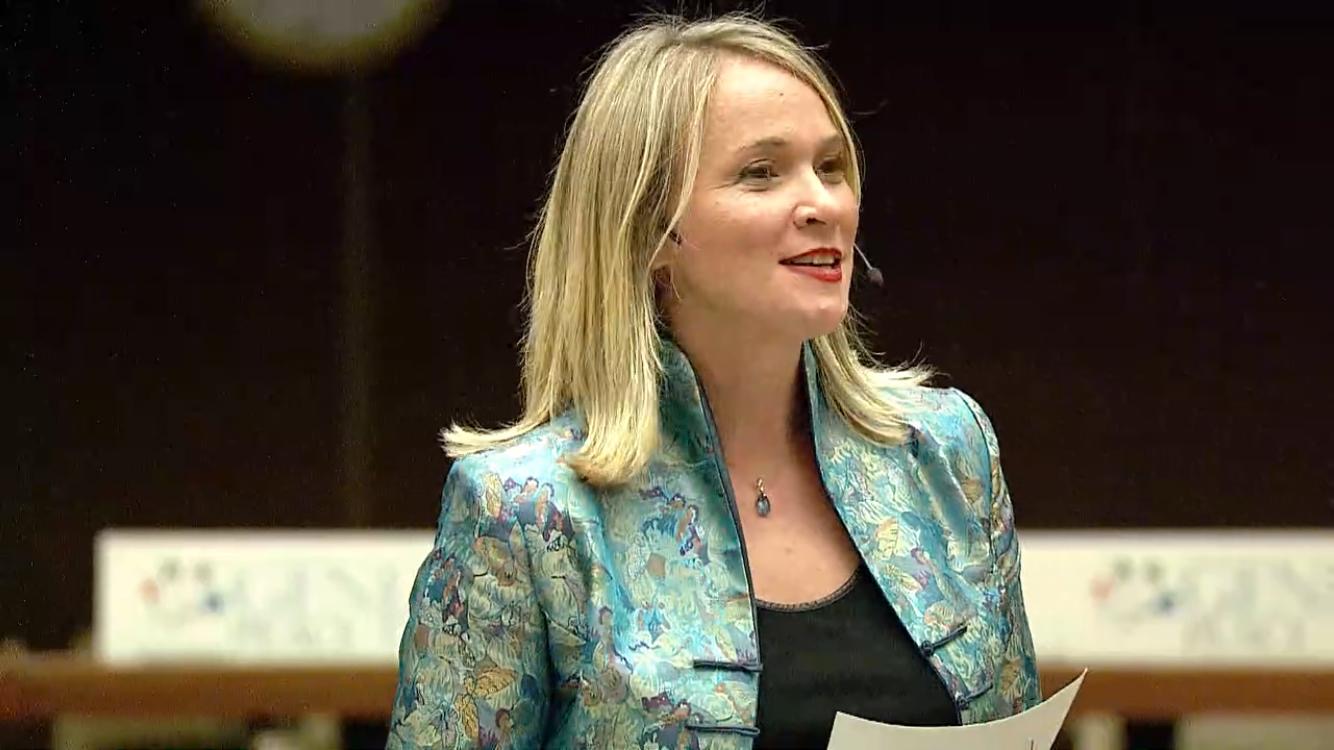 Sarah Noble '98 is Director of External Relations at The New Humanitarian, a nonprofit newsroom that 'puts quality, independent journalism at the service of those affected by humanitarian crises' In regions often forgotten or ignored. Sarah credits her ASP MUN experiences with spurring her passion for international relations, and remains in daily contact with ASP classmates. Read more.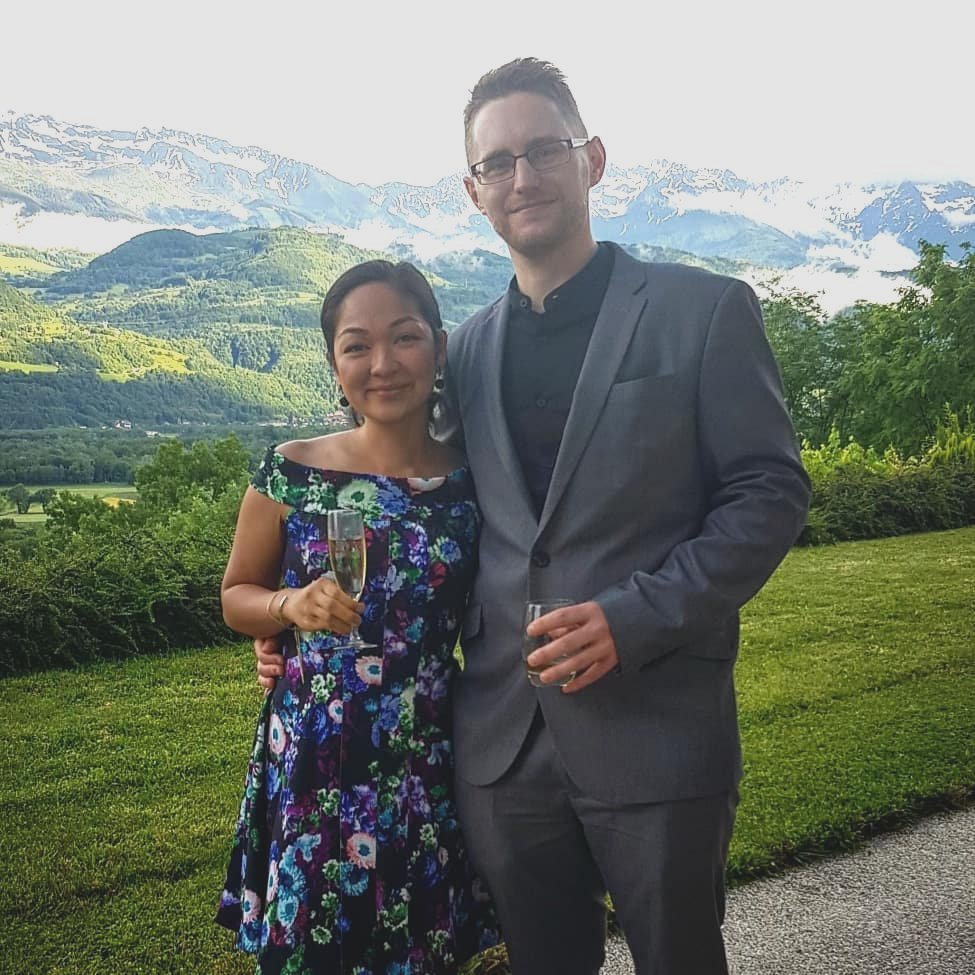 Yann Green '06 is a film editor based in London. He was the first film student at ASP and part of the project to pilot the school's IB film program. The documentary Yann edited about the making of the hit show "The Witchers" is now on Netflix." I want to thank Laura Schupack and the Film Class for getting me on my path to where I am today." Read more.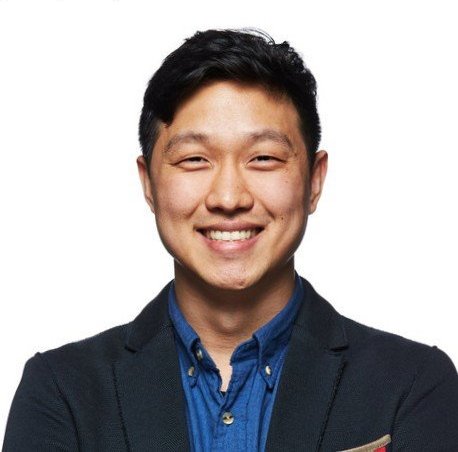 Brian Lee '08 recently invited his ASP science teacher Laura Schupack to his virtual Doctoral Thesis presentation at Columbia University. Brian completed his doctorate in Engineering, focusing on photonics. Laura shares: "Brian's presentation was very impressive. He's going on to a career in photonics, focusing on reducing heat production at servers." Read more.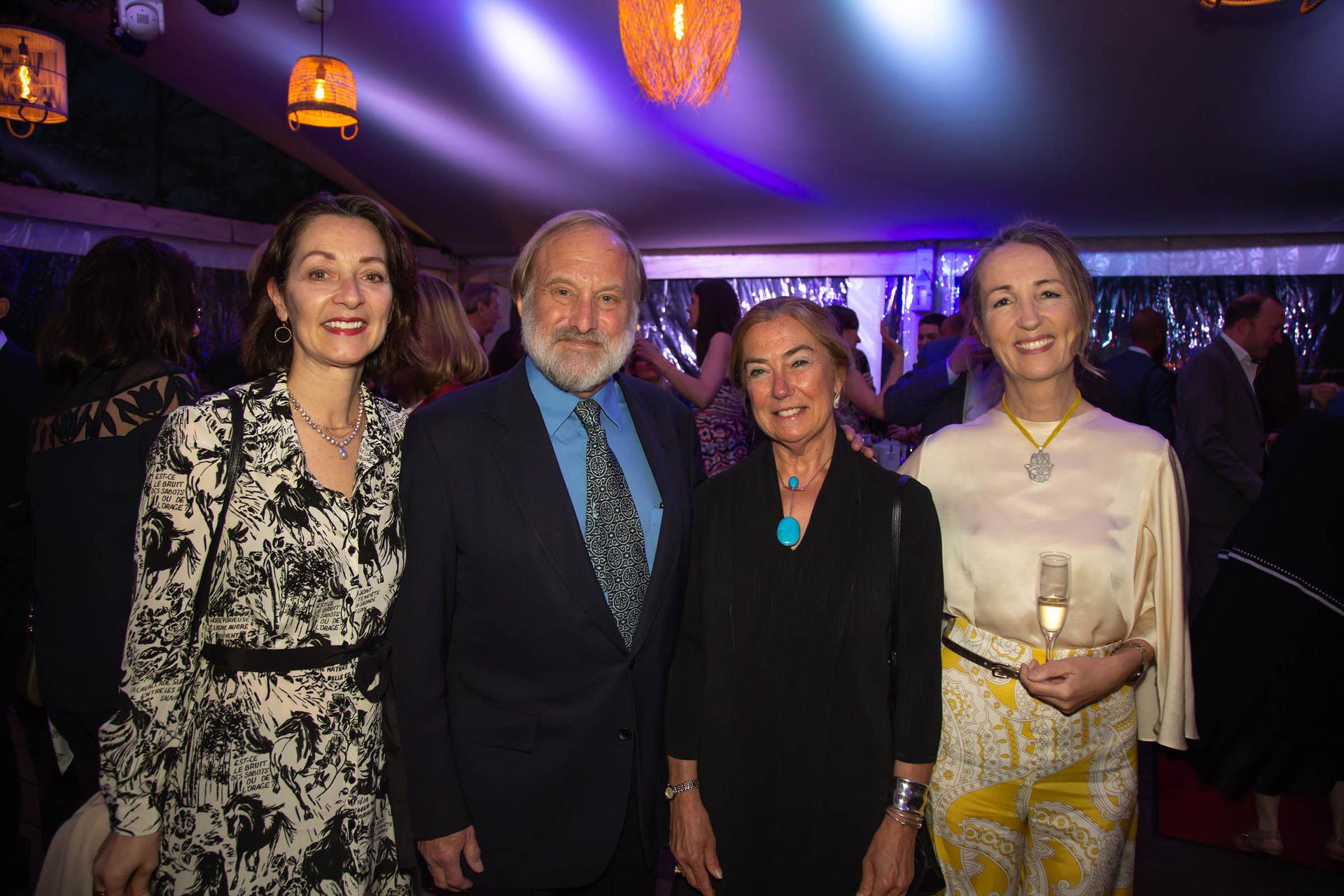 David and his wife Beth (center) with Board of Trustees President Yvonne Lalonde (left), and Head of School Jane Thompson (right), Paris 2019.
David Pendery '68 lent his expertise about the Machine de Marly to a National Geographic article about the "revolutionary 17th-century machine pumped water from Paris to the royal palace." This is a topic that has fascinated David, a professional architect, for almost 60 years, beginning when he was a student at the ASP Louviciennes campus.
Alyssa Kaser '16 has accepted a research position at Johns Hopkins Bloomberg School of Public Health where is conducting cognitive aging and neuroimaging research. She talks about inspiration she received from her ASP science teacher and her post-ASP path here.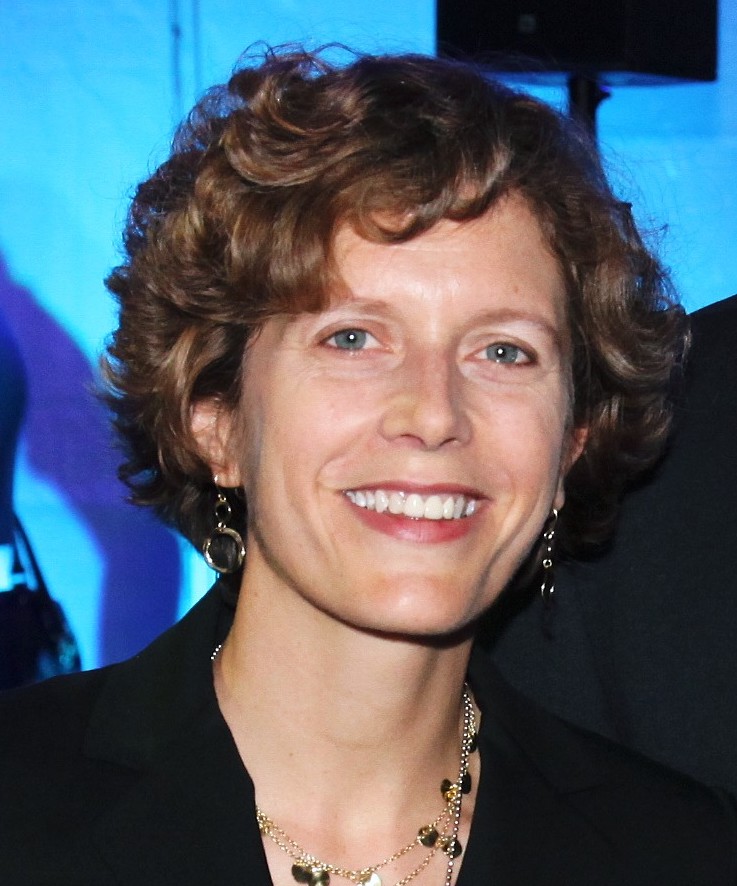 We sadly share news of the passing of beloved ASP alumni community members: Suzanne Obenshain, ASP past parent and Board of Trustees President from 2015 to 2017, Krysta Papillon, Shirley Robinson, Steve Shirk, Lars Björck, and Rob Maher. Read more.

ASP Educated, Empowered, and Employed!
Welcome back to two alumnae who join the faculty team as of 2020–21
Joumana Hassan Ordelheide '00, Upper School College Counselor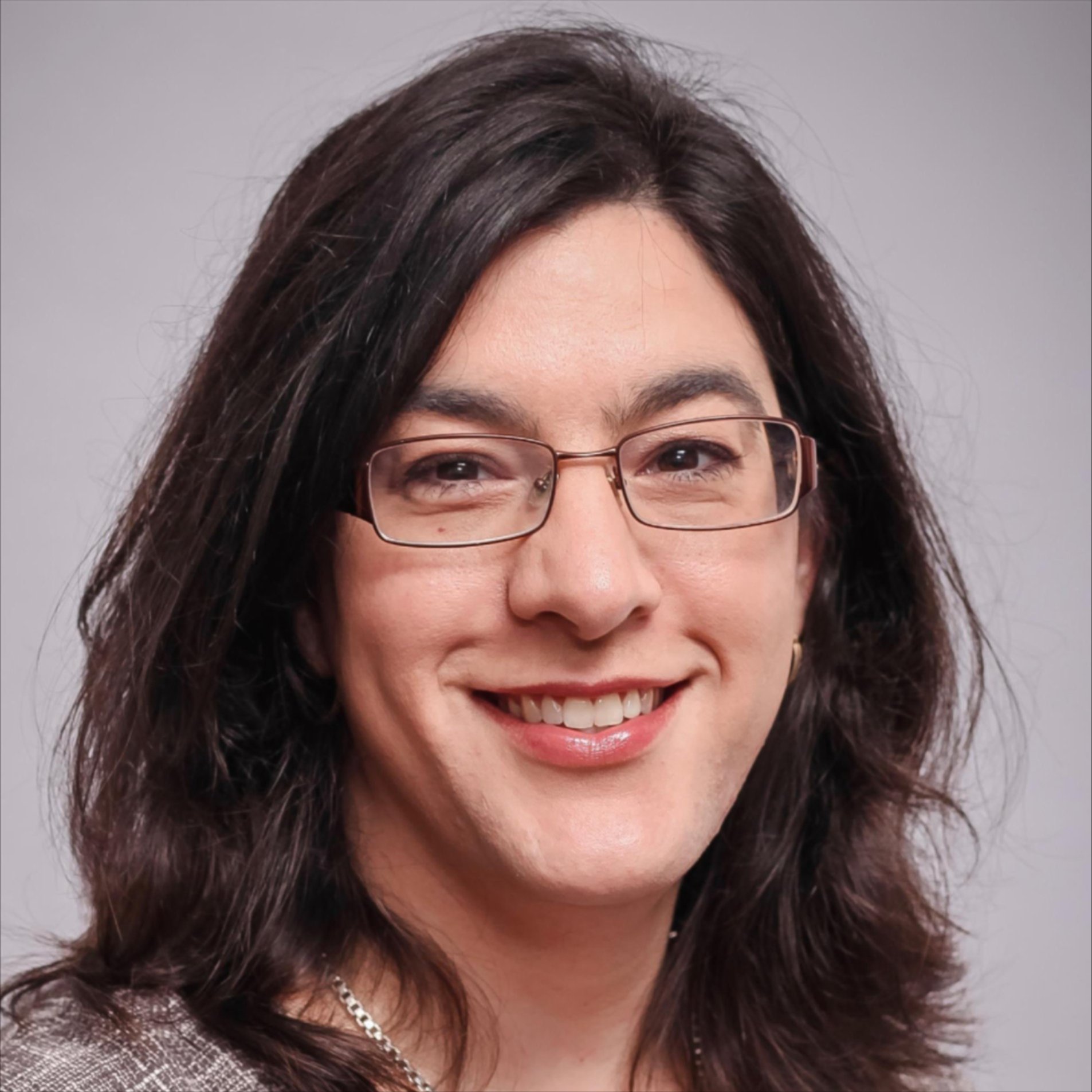 Alexandra (Lexi) Drouart Conrad '97, Lower School Art Teacher

Alonso Valenzuela '90 (photo, right) and Mariano Federici '91 met up in Miami recently after not having seen each other for 31 years!
Alonso is with Goldman Sachs, based in Miami with his wife and daughter; Mariano is Vice President at K2 Intelligence.

A wall in the Upper School building has been dedicated to shedding light on the path of alums 'beyond the walls' of ASP, serving to inspire current students as they pass by daily. Thank you to all who have contributed via the Alumni in Action project. If you would like to participate in this or other alumni projects, and inspire current ASP students, please contact the Alumni Office.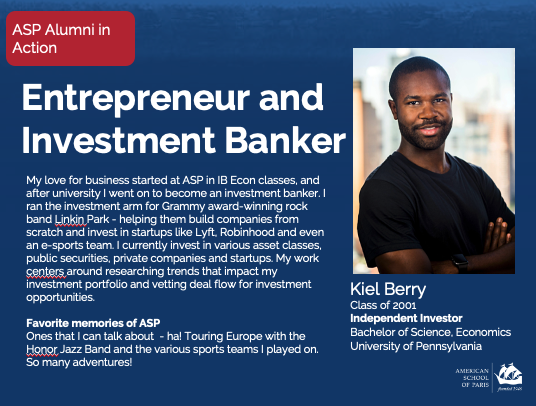 ASP Blog
Each week, the Weekly Word features the work of community writers who share their reflections on education, explain important school processes, or start an ongoing conversation on all things ASP. Subscribe here.
Calling all Rebels! Jostens has created premium quality vintage-style ASP letter jackets in wool and leather, customized for alumni, including indication of graduation year! The jackets are available directly from the company and shipped to your home. Find your size, and contact kerri.dolena@jostens.com for additional information and to order.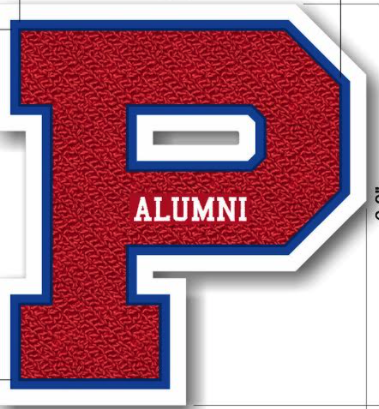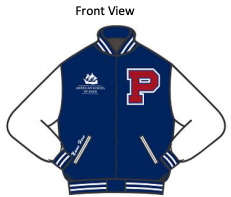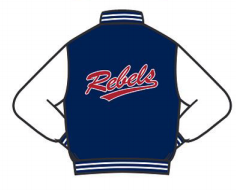 OUR MISSION: The American School of Paris is a vibrant, international, family-oriented community. Our mission is to inspire and prepare every student to achieve personal and academic excellence as an engaged global citizen by providing a challenging, innovative program within a compassionate environment.