THE HUB NEWSLETTER
WELCOME TO THE JANUARY 2020 ISSUE
YEAR 1 OF A NEW DECADE
"And now we welcome the new year. Full of things that have never been." Rainer Maria Rilke, poet and novelist
MS POETRY BY HEART - UPDATE
Our Grades 7 and 8 in-house competition to choose which students will represent ASP in the Spring will take place on January 29. The Grade 6 final will take place separately during flex time. As announced in the last issue ASP will be hosting the next Middle School Poetry by Heart Inter-Schools Competition in the Spring. The names of the candidates will be announced in the next issue of this newsletter!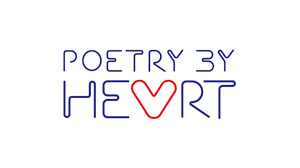 MATCH D'IMPRO - A BIG SUCCESS!
The first bilingual Match d'impro between the Lycée de Broglie in Marly-le-Roi and ASP was a huge success. Sixty energetic and motivated students competed in a friendly game of improvisation demonstrating a large range of skills such as listening, team work, creativity and quick thinking. And all in French and English. Thank you to all the students and teachers who came to support us. The second round will take place in Marly-le-Roi this Spring.
Oh, and who won you ask?
Lycée: 14 / ASP: 13

However, there is a dispute on the last point so it may be
Lycée: 13 / ASP: 14 or Lycée: 13 / ASP: 13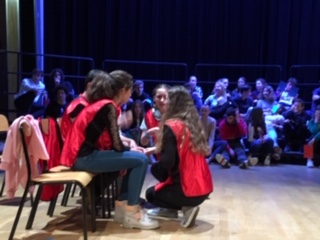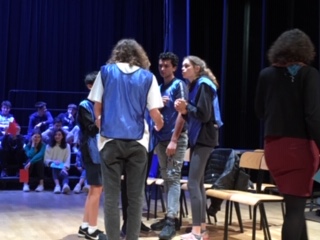 REMINDER
The IT Department has given the library 3 mac chargers and 3 MacBook Air computers to loan US students in case of emergency. Student card needed.

BITS & PIECES
Location
Building 6, Room 6108,
at the top of the Coulson Commons stairway
Hours
Monday-Thursday: 8:30 a.m. – 5:00 p.m.
Friday: 8:30 a.m. – 4:00 p.m.

Telephone
01 41 12 82 97
OUR MISSION: The American School of Paris is a vibrant, international, family-oriented community. Our mission is to inspire and prepare every student to achieve personal and academic excellence as an engaged global citizen by providing a challenging, innovative program within a compassionate environment.
© 2020 American School of Paris
41, rue Pasteur
Saint Cloud, France
The privacy of our ASP community is paramount, and the school is committed to respecting your data privacy rights, in compliance with the General Data Protection Regulation and other regulations. We invite you to acquaint yourself with our updated data protection policy. If for any reason you would like to be removed from our mailing list, please contact advancement@asparis.fr.
Unsubscribe from future ASP communications